To our valued clients: a message from Barrows President Chris Clemmer regarding COVID-19.
Learn More
Home Page Featured Product
Learn More
FEATURED PRODUCT
Clipper
Portable and user-deployable, Clipper freestanding screens by turnstone deliver on-demand privacy + space definition to any space.
Learn More
Learn More
ARCHITECTURE + SPACE DIVISION
Barrows offers dozens of architecture and space division options to meet your needs. Whether it is walls and work walls, panels, screens, beams, power and flooring, and fences, find the best match for your organization.
Learn More
Solutions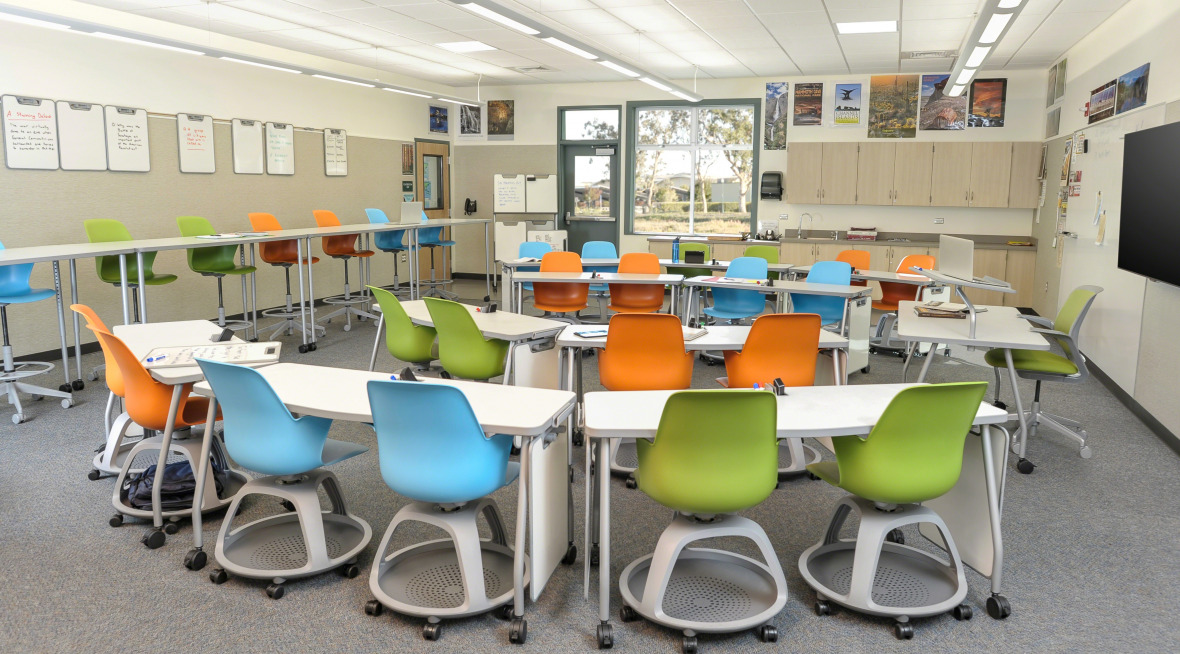 Education
ACTIVE LEARNING. ACTIVE MINDS. ACTIVE SPACES.
Barrows Inc. and Steelcase Education are focused on helping schools, colleges and universities create the most effective, rewarding and inspiring active learning environments to meet the evolving needs of students and educators.
Using an insight-led approach, we design solutions for the many spaces learning happens, from classrooms and libraries to in-between spaces and cafes.  We have a passion for understanding how learning best takes place and how smarter, active learning spaces can help.
Learn More
News from Barrows
More News
Barrows Welcomes General Manager, Jack Orsinger
Barrows, Inc. has two exciting announcements to make regarding their talented team!
Jack Orsinger has been welcomed to Barrows as their new General Manager. Jack has ten years of experience working in sales operations in the health insurance industry. Most recently, he worked as the Division Vice President for Health Care Service Corp where his focus was on business process optimization and sales infrastructure support. There, Jack was the business owner and lead for the implementation of a Salesforce CRM to support the deployment of a 1,500-person sales contact center. He is eager to use his experience to benefit customers in the Roanoke area.
"I'm excited to be joining a dynamic and growing company like Barrows," said Orsinger. "I've experienced first-hand the transformation of business workspaces and the positive impact it can have on worker morale and productivity. It's thrilling to work for a company that can have such a positive impact for employees, staff, and students in the corporate, healthcare, and education environments. I'm looking forward to helping Barrows continue its growth trend and help facilitate the expansion of its business footprint!"
Jerry Helms, who has been with Barrows for nine years as a lead installer, has been promoted to Project Manager. Prior to his work at Barrows, Jerry was the owner/operator of Bare Wood, a furniture retailer with two locations each spanning 10,000 square feet. His experience within the company has proven his worth to both the customers and to Barrows itself.
"It's an honor to continue building my career with Barrows," said Helms. "After nearly a decade of working with this company, I can honestly say I have never seen our dedication to our customers waver in any way. I'm proud of how we treat our customers and the work we do for them. I'm excited to continue that trend in my new role as project manager."
Barrows, Inc. is proud to have Jack and Jerry on their team and is excited to see what they will accomplish in their careers. To learn more about our experienced staff and the services we offer, visit www.BarrowsInc.com.
More News
More News
Barrows and Steelcase Grant Installation
Barrows, Inc. has successfully transformed select spaces at two local colleges using grant-funded furniture and accessories. Steelcase, a Barrows partner, chose both Radford University and Virginia Tech as winners of their Active Learning Classroom Grant. The furniture supplier then turned to Barrows to design and install the project. The new spaces are now ready for use.
"We have a passion for understanding how learning best takes place and how smarter, active learning spaces can help," said Chris Clemmer, president of Barrows. "We're proud to partner with Steelcase Education to create the most effective, rewarding, and inspiring active learning environments possible for our local students."
The Active Learning Classroom Grant is worth $67,000 and provides new furniture, workspaces and technologies for schools and universities chosen across the nation. Barrows works as a vendor for Steelcase and the companies partner together on multiple education-related projects each year.
Barrows has long been committed to enriching the lives of children, teens, and young adults living in and around the Roanoke Region. The firm currently supports the Roanoke Children's Theatre, St. John's Community Youth Program, and the Taubman Museum of Art. To learn more about Barrows, Inc. and their involvement in the community, visit www.Barrows.com.
More News